Recommendations and Reflections from a New Yorker's First Time in Japan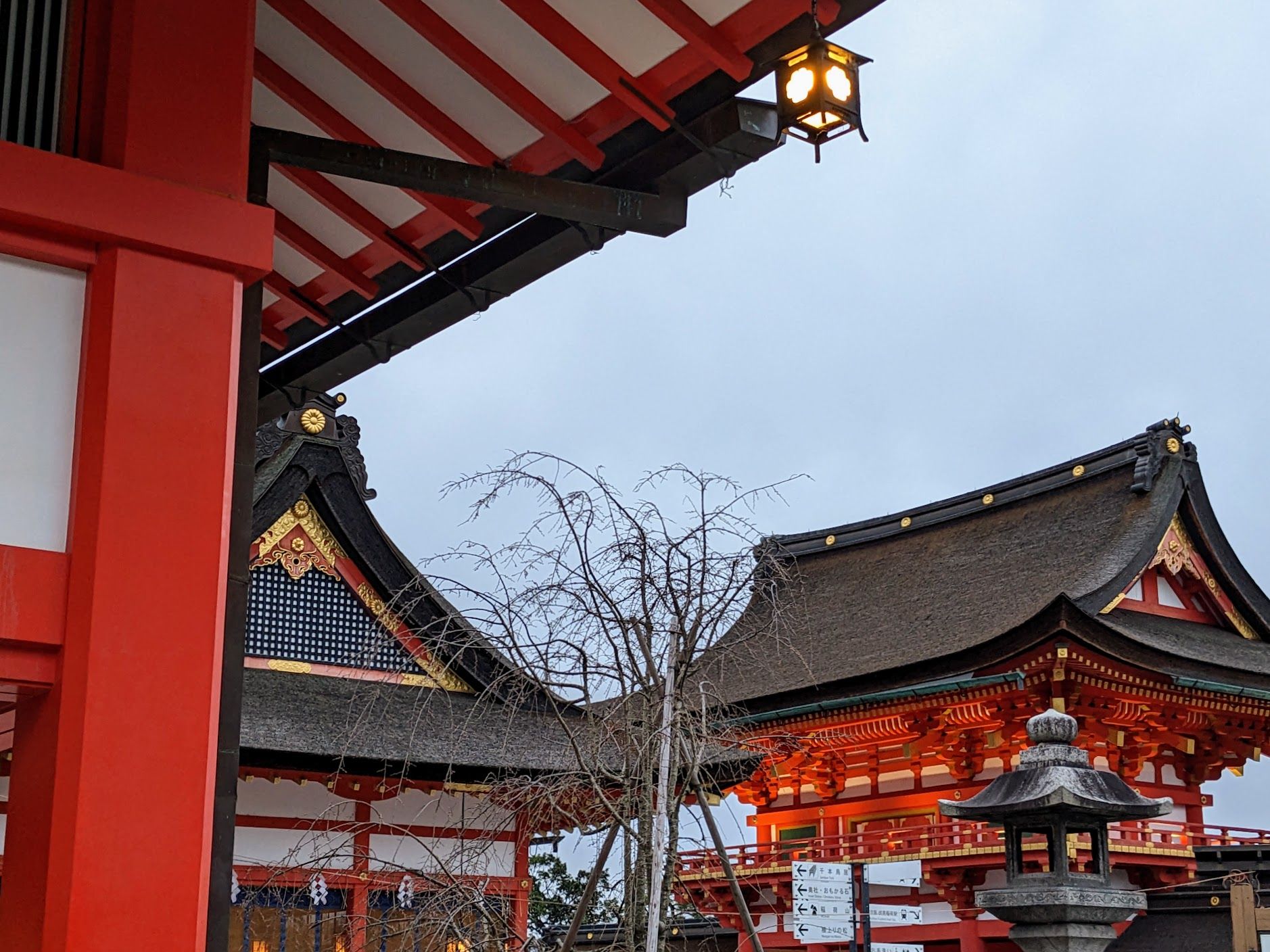 Prefatory Reflections
By all means, skip ahead to The Trip if you're not here for personal musings.
It feels like eons since I last touched this blog. I'd like to chalk it up to having too much going on in my life – and to a certain degree, that's true – but the truth of the matter is that I've simply been pushing it off. I owe it mostly to the paradox of choice and the terrifying trench that is the blank page, but also to the personal progress I've been making in my social life. I'm investing more into friendships that require me to be vulnerable in a way I maybe wasn't willing to be in the past. It's not vulnerability in the sense of being open and emotional – I've never felt the need to hide what I think or how I feel (perhaps, at times, to my detriment). Rather, it's vulnerability in the sense of initiating conversations that open me up to rejection, inviting distant friends to spend time together even though I know there's a good chance I'll find myself caught in awkward silences or the loop of questioning whether I should've said that. And of course there's the humbling recognition that I spend a great deal of energy caring what other people think of me. Setting aside the emotional bandwidth required to be vulnerable in this way, investing more into relationships has meant spending more time outside of myself and my own creative pursuits. Even the creative pursuits I know I'm not deliberately avoiding in the name of socialization – mainly, painting and coding – have been tabled in the name of deepening friendships.
I feel conflicted about my new priorities. On the one hand, I'd always been one to succumb easily to FOMO and a self-consciousness around the size of my friend circle (or the fact of having a few treasured 1:1 friendships in lieu of a "circle" of friends). Not to mention, I give great weight to the notion that people confronted with death seem to unanimously wish they'd invested more into relationships and less into work. From a Coco-esque standpoint, we might as well fade into the nothingness of eternity if we don't live on in the memories of ones who loved and valued us.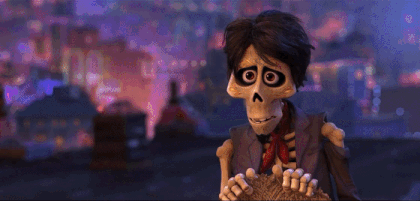 On the other hand, I started the year with grand ambitions of feeding my entrepreneurial and creative muscles by dedicating my time to new paintings and new coding projects, particularly in a time when I find that I'm hardly coding at work except when I'm translating Google Ads API code examples into Perl from other languages. Even if I have meaningful interpersonal connections, did I really live my life to the fullest if I didn't create something of value for the world?
Of course, that's a very high stakes way of framing the tradeoffs of socialization vs. creative work. In my most philosophical moments, I remember that nothing matters anyway, and we're all likely to die in this simulation that failed to counteract the destructive potency of climate change in time to prevent the apocalypse.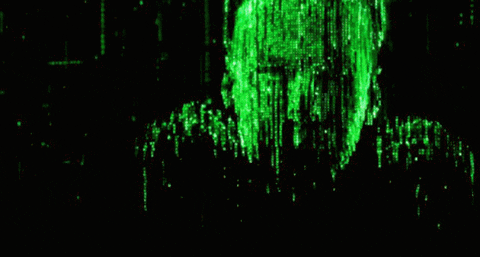 And so the best thing I can do is what brings me joy. Being productive creatively brings me joy; feeling like I'm a part of the solution to climate change brings me joy (even if anything I do is a drop in the bucket compared to the carbon footprint I accrue by air travel); exploring brings me joy; expanding my worldview brings me joy; feeling loved and valued, of course, brings me joy. I've been spending more time this year than ever investing into my friendships, and through that I've also spent more time than ever joy-seeking by traveling and undertaking novel experiences. Which leads me here, to this moment, zigzagging my narrative path towards the intended subject of this writing: my travels in and around Japan.
Japan has long been at the top of my list of travel destinations, and I never dreamed it'd be accessible to me this early in life. Ever since watching [an '80s American take on Japan in] the formative film of my childhood – Kidsongs: I'd Like to Teach the World to Sing – it's held major appeal. Of course, several years and several Nintendo games later, I'd developed a more holistic picture of Japan. Now, at a time in my life when I'm investing more into creating meaningful experiences with friends, there was no better way to check off this beckoning box than by instigating a Japan trip with a circle of friends I've found myself slowly ingratiating myself with in the years since college. Deepening friendships? Check. Fostering new experiences? Check. Broadening my world view? Check! Doing my part to save the planet? Well… How do you define personal responsibility within a system that's set up to enable, even encourage, counterproductive choices at scale?
Prefatory Conclusion
With Japan now six months behind me, and my schedule finally calming TF down, I wanted to give the trip the reflection it's due. Of course, the hope is that this writing will serve not only me and my anxious need to milk personal development out of every opportunity, but also you and your curiosity about the experience of traveling to Japan for the first time. This is my best articulation of my travels in Japan: highlights of the experience and what I observed about the country and its culture.
The Trip
If you're here for recommendations, you can find them bolded. Take what you need, and nothing more.
2 weeks in Japan in March: an Itinerary
Altogether, my friends and I – 6 of us in total – were in Japan for 12 days. We debated several itineraries and ultimately landed on this one, which spanned several cities between Tokyo and Miyajima:
Getting between cities by train
We managed to go to a lot of cities considering we weren't even there for a full 2 weeks. While this was a lot of travel, it didn't feel excessive, largely because of the renowned Japanese rail system. Coming from the U.S., where train travel is comparatively uncommon, impractical, and expensive, traveling on the Japanese rail system was one of the highlights of the trip. Even the time spent in stations waiting for our trains was part of the fun, as long as we weren't rushing to get to our train. The stations housed a bounty of restaurants, bakeries, and other shops, creating an atmosphere that was something between Grand Central and a high traffic shopping mall.
We were able to use our JRail passes for almost every leg of our journey, though it did require some planning and might've added a few hours of train travel overall. Admittedly, it helped that a couple friends in the party had gone to Japan before and could take the lead on some of the navigation. Using the ticketing machines at the rail stations wasn't always simple, and I witnessed at least a handful of tourist groups standing around the machines collectively assessing which buttons to push, but it wasn't so bad after a couple uses (and there were far more than a couple). To figure out which trains to take, we mainly relied on the Navitime app, which let us filter the options to only those that accepted JRail passes. I never calculated how much money we saved by using the JRail pass, but with how much we used it, I have to believe the savings were substantial.
Accommodations
In planning our trip, we decided that we would rather have a "home base" when possible, rather than trying to find separate accommodations for every destination, mainly so that we wouldn't have to carry our luggage with us every time we went to a new city. For that reason, we spent about a week of our trip at a single Airbnb in Nishinari Ward, Osaka, and made day trips to other cities from there, the furthest of which was probably a ~2.5 hour train trip to Miyajima. The Airbnb was perfect for its ease of access to Osaka station from the nearby metro station, and for the quiet neighborhood.
Other than our Airbnb in Osaka, we stayed at Ajisai Onsen Ryokan in Hakone, and two hotels in Tokyo. Several people had advised staying in a ryokan while in Japan, and I'd second that advice. It was fun to have a more traditional Japanese experience, even though we didn't take full advantage of all the typical ryokan amenities – namely, the meals. We did take advantage of the private, indoor onsen, and all these months later I still cherish the peace I experienced while lounging in the hot water, inside a spacious room made of natural wood and stone, listening to nothing but the constant stream of water pouring into the bath.
The hotels we stayed at were decent – by the time we booked, our options were rather limited, so we ended up in tiny rooms with twin beds in one, and sharing queen beds in a large (by Tokyo room standards) suite in the other. Tokyo pricing was easily the highest of the trip, so booking further in advance would have been the way to go; alas, we were booking our March accommodations in January, so we couldn't be so choosy. For that matter, I'd recommend booking as early as possible, ideally more than four months in advance, particularly if you're able to find accommodations with flexible cancellation policies. We might've gotten lucky with accommodations because of the timing of our trip, as I think many travelers were going to Japan in the weeks after us in anticipation of the cherry blossoms, but we nonetheless had slim pickings when it came to ryokans and affordable-but-nice Tokyo hotels.
Highlights of the trip
I'll spare you the exhaustive list of things we did on our trip. Instead – and in no particular order – here are some of my favorite aspects of our travels in Japan, with recommendations bolded.
Walking around
My absolute favorite way to experience a new place is simply to walk around as much as time allows. Sprinkle some delicious meals and snacks throughout a day of exploring built or natural environments on foot and I'm content. Lucky for me all of the cities we visited were highly walkable, and all my travel companions were accustomed to plenty of walking from living in NYC. On average, I walked over 24,000 steps per day while in Japan.
Walking around Japan was a constant process of discovery. We discovered adorable restaurants and shops, quaint gardens, historic temples and shrines interspersed among modern architecture, thrift markets, arcades, public artworks, modestly picturesque streets, infinite microcosms of Japanese culture.
Recommendations:
Wander around Kurashiki's historical quarters to admire the old canal and the stately architecture.
Explore the bamboo forest and the monkey park of Arashiyama in Kyoto.
Walk through the Open Air Museum in Hakone.
Leave yourself time to just wander! There's so much to take in, you can't go wrong with just zig zagging to your heart's desire.
Nature everywhere
Walking around so much confers the additional pleasure of noticing and reveling in the abundance of nature and natural elements throughout Japan. It's impossible to overstate the beauty and the awe-inspiring quality of Japan's natural landscapes, and its cityscapes that incorporate greenery and nature-inspired architecture. It's a beauty that reveals itself at every scale – in the moss covering an old stone wall, in the vibrant pink and red blooms that pop in a garden of yellows and greens, in the trees that stretch their arms over centuries-old paths, in the parks that offer a place of peace and contemplation amongst the city hustle, and in the mountains that remind us how puny we are.
Coming from upstate New York, I'm no stranger to mountainous landscapes and vast greenery. But Japan's natural landscapes were something else, filled with plant species I'd never seen in-person, or at least not so extensively. Not to mention the animal encounters. It was as if I'd been drag-and-dropped directly into a Studio Ghibli film.I wish the forest spirits could transport me back there now.
Recommendations:
Travel the winding roads of Hakone and take in the beauty of the luxuriously plant-coated mountainscapes. While you're there, take the Hakone Ropeway up to Owakudani for some active sulfur vents and hot springs, then take it down to Togendai for a pirate ship ride on the lake. If you're up for a short hike, head down the Old Tokaido Stone Paved Road ending with a warm drink at the Amazake Tea House (but don't go too late or else you'll find yourself stranded, as the buses don't run all day and rideshares aren't really a thing there).
Find an outdoor onsen amongst stone and trees. All the better if it comes with a view.
Explore the gardens at the Tenryuji Temple, and stop in for a traditional zen buddhist meal (all vegetarian!) at the Tenryuji Temple Shigetsu.
Get up close and personal with the chillest of deer friends in Miyajima.
Walk through Momijidani Park in Miyajima for some beautiful maples (I hear they're even more stunning come autumn) and then head up Mount Misen for horizonless vistas.
Food
You already know the food in Japan is incredible. Even as a vegetarian*, and despite some challenges maintaining my vegetarianism on my trip, the food in Japan was one of my highlights. I ate so much mochi and fried vegetables, and I discovered an unexpected love of cabbage! Besides the food itself, the experience of eating out in Japan is distinct. I especially enjoyed seeing solo eaters in little counter booths, particularly at ramen shops and curry houses. It's hard for me to imagine dining solo in the U.S. without feeling socially awkward about it, and I've felt that discomfort while dining solo in Europe. I could certainly stand to grow personally when it comes to my comfort level dining out alone, but it wouldn't hurt if solo dining was as common here in the West as it is in Japan. Another difference that struck me was that inflexible (physically) Americans likely struggle with some of the restaurants whose majority seating is on the floor at low tables; I for one can only sit criss-cross applesauce for so long before I need to adjust, lest I irrevocably become a pretzel.
I'm hesitant to even make recommendations because I think so much of the fun here was in the spontaneity. Besides, many of the places we went to were places we just stumbled upon. That said, I want you to experience the joyest of joys I experienced, so I'll recommend my favorites.
*If you're looking for tips as a vegetarian in Japan, I'd recommend this article from Never Ending Voyage, and especially the printable "I'm a vegetarian" cards they link from Just Hungry.
Recommendations:
Kind strangers
It feels cliched to remark on the kindness of strangers in Japan, and yet it'd be ingenuine not to. It's not that the hospitality was fantastic everywhere we went – the service at our 2 hotels, for instance, wasn't noticeably better than what I'd expect from your average two or three star hotel in the U.S. But in countless interactions – across restaurants, shops, and train stations – it really felt like people welcomed us there, and wanted us to enjoy our experience of Japanese culture. Despite communication barriers, the kind-spirited reception was clear – in the smiles, the willingness to spend extra time trying to understand my dietary restrictions (and the sincere apologies when accidents happened), the attempts to meet us halfway with some English, and the generally generous vibes people put out towards us.
Once, we were waiting on the local train platform in Osaka, and a uniformed employee at the station approached us. We thought perhaps we'd done something wrong and he was coming to give us a talking to, but once he had our attention he simply asked where we were from. It quickly became apparent that he was asking about our trip as a means of both welcoming us and practicing his English. I don't want to condescend by calling this man adorable, but I respectfully insist that he was; the brief interaction filled my cup.
In another instance, my friend left his bag with some… er… very important travel documents in it on the train that had promptly left the station before he noticed. Relying heavily on Google Translate™, he spoke with the employees at the station to inform them of the situation and explain what train it was, where on the train it was, and how they could identify the items. They instructed us to return later to check on the situation, and when we came back after a few hours, they had recovered my friend's stuff after someone had turned it in at the next station. If that had been New York, I'm not sure he'd have ever seen his stuff again.
If it's beginning to sound like all of the kind strangers work at train stations, I assure you they're everywhere. I even received a welcome message from the barista at a mall Starbucks. Was he being normal levels of welcoming, or was he into me? We may never know (but hey, cute Starbucks employee in Namba City in Osaka, hmu if you're reading this…)
There were, of course, some less polite encounters. Once I was corrected at a shrine for praying, bowing, and clapping out of order (I just copied the order of the woman ahead of me. Here's the proper shrine etiquette if you want to be in the know). I'm not convinced she was being impolite; she wasn't wrong if she assumed I'd prefer to pay my respects with proper etiquette, though the correction was unexpected. We were also turned away at multiple restaurants that were clearly open and bustling. Apparently it's not uncommon in Japan for restaurant hosts to turn away groups of foreigners (now you know). Altogether, these less "friendly" experiences were trivial in comparison to the overall sense of kindness we enjoyed.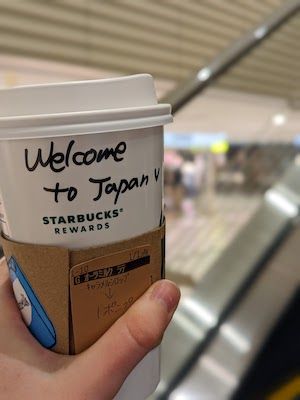 Theme Parks
I wasn't sure if I'd regret visiting theme parks in Japan instead of using that time to experience the "real" Japan. In hindsight, I definitely feel I made the right choice incorporating them into my travels. I went to two theme parks whilst in Japan: Universal Studios Japan and Tokyo DisneySea. Not everyone I was traveling with had the same enthusiasm for theme parks as I did, so we ended up splitting up accordingly – one of the perks of traveling in a group of 6.
It turned out that my concern about theme parks not giving me an authentic Japanese experience was a bit unwarranted. While the theme parks were reminiscent of Disney and Universal Studios in the U.S., they were also markedly different in many ways that felt true to what I'd learned about Japanese culture during the rest of my travels. One such difference was the apparent willingness of people in Japan to wait in long lines. Of course there are long lines at theme parks in the U.S. as well, but Japanese theme parks took it to another level. And it wasn't confined to ride lines – there were several 50+ person lines for small, specialty snack items. The threshold of "worth the wait" was heavily skewed to where I couldn't be sure if line length said anything about the quality of the thing people were waiting for. My friend and I once waited in line for about 90 minutes for a rollercoaster ride that lasted no more than 60 seconds; at first we thought for sure it was pausing to build excitement before embarking on the second leg of the journey. How salty we were when we learned we were wrong. Later, when we were in Tokyo DisneySea, it wasn't a hard decision to pay an extra ~$15 to skip a ~3 hour line.
On a more positive note, I was delighted to see that theme park goers in Japan really lean into their themed attire. In Disney in the U.S., it's not uncommon to see Mickey ear headbands, but it does feel like a novelty that's more appealing to little kids and Disney adults than to the average park goer. In Japan, not only was themed headgear more common, but it was somehow more over the top as well. In place of headbands were plush headpieces that engulfed the head almost entirely (like this Boo). And the commitment didn't stop there – countless park goers dressed in matching outfits or costumes; entire groups thematically coordinated. Incidentally, we were in Universal on the vernal equinox, so there were swaths of schoolchildren all over; and despite having no school that day, many were dressed in their school uniforms (kids wearing their school uniforms on their day off? Willingly??). The people-watching experience really tempered any agitation about the long lines.
One of my favorite moments was realizing that both Tokyo DisneySea and Universal Studios Japan were home to little New Yorks. In fact, New York in Universal is where I found one of the only vegetarian meals available in the park: a good old fashioned slice of New York pizza… which included a side of fries (sure, why not? Sounds American to me). I have no shame in admitting that I feel very proud to live in a place that is so widely beloved and mimicked, and I was feeling oh-so-smug as I walked through Fake Central Park with my real Central Park members hat on.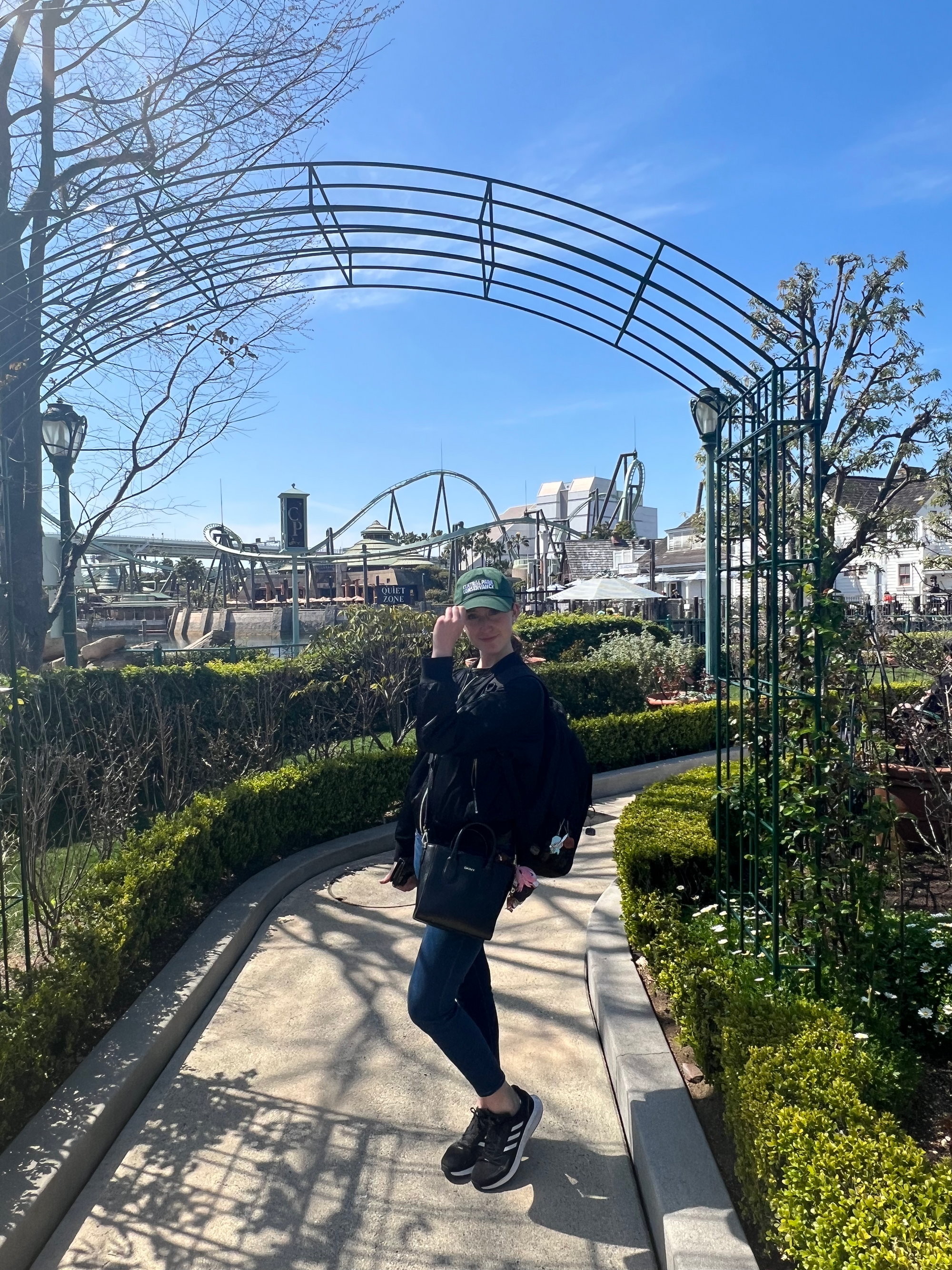 Lastly, the theme parks didn't strictly limit themselves to Universal and Disney theming. In DisneySea, there was a whole section of merchandise dedicated to characters that had been created for the park. They were not Disney characters, and I'm pretty sure they weren't popular Japanese characters either. They were just cute little animal creatures with cute names and cute little backstories. In Universal, intermixed with all of the movie-themed rides, there were several anime overlays – a 3-D Jujutsu Kaisen experience, a Doraemon virtual reality ride, and a Spy X Family "top secret mission" / puzzle-based scavenger hunt. This of course meant plenty of anime merchandise as well, and you best believe I bought some Spy X Family goodies. When in Japan!
Recommendations:
If you like theme parks, don't overlook Japan's.
If you're going to Universal Studios Japan, make sure you've checked for the latest guidance around entry to the more popular sections of the park. In order to get into Super Nintendo World, we had to reserve a spot in the virtual queue once we were in the park. Since we didn't realize this until about a half hour after park opening, we couldn't enter Super Nintendo World until close to 6pm.
Join in on the fun and coordinate outfits with your group! My friends and I didn't do this, but it would've enhanced the experience for sure.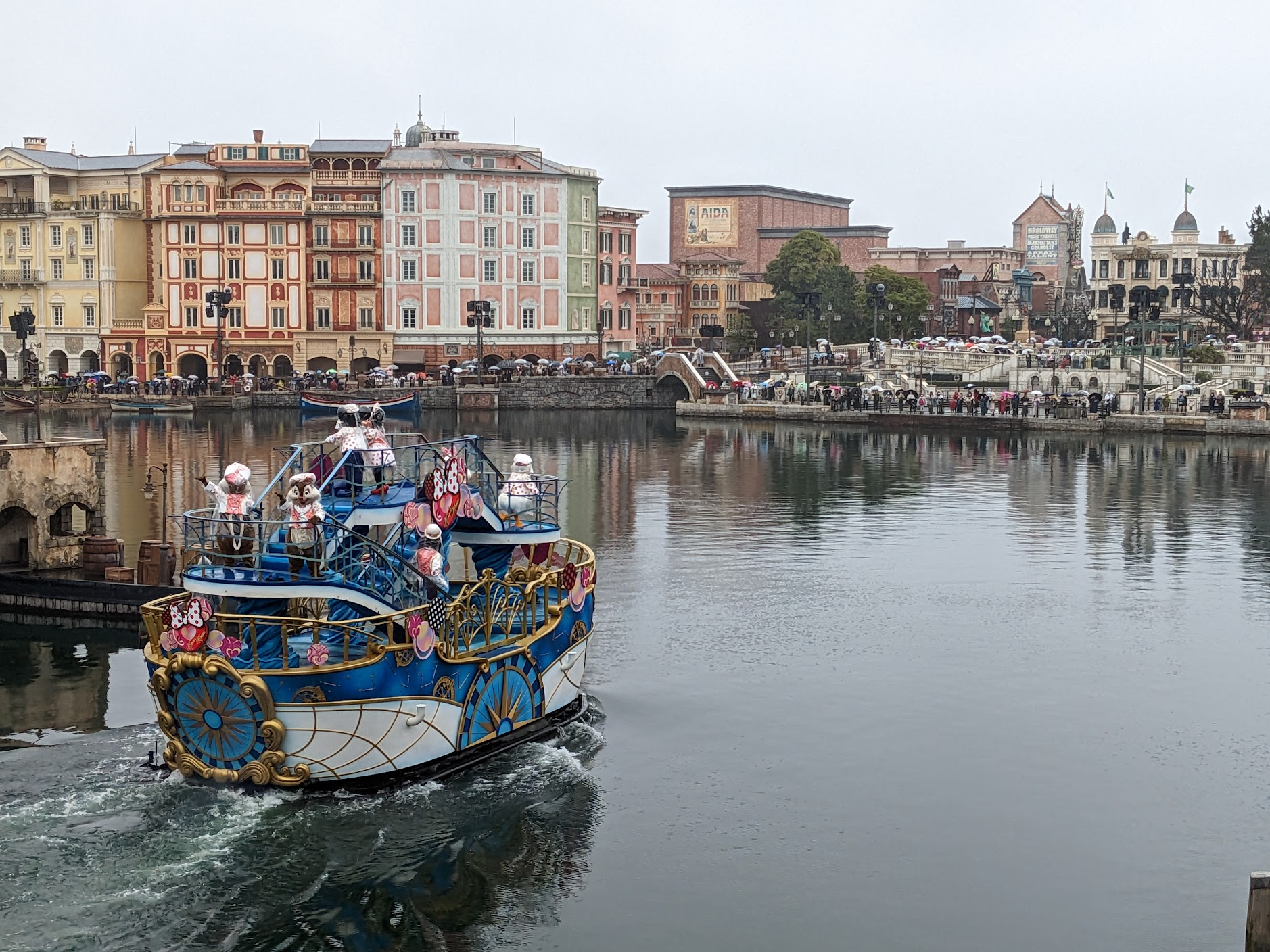 Shopping
Shopping malls in Japan are EXPANSIVE. And shopping in general is prolific. We'd land in metro stations in central areas and struggle to find the exit because we were funneled directly into shopping labyrinths like retail lab rats. Where New York stretches its shops down the lengths of avenues and in newer multi story shopping centers like The Shops at Hudson Yards and the Oculus, Japan does all of that and so much more. Malls with 10+ floors featuring hundreds of shops, many floors thematically categorized (anime, crafts, skincare, jewelry, etc.). And because multiple megamalls aren't enough, you also have several indoor/outdoor shopping districts to choose from. It felt economically implausible that so many shops could exist in a single city – how is there enough demand for such a massive supply?
Despite my incredulity, and my tendency towards frugality, the shopping in Japan was a highlight for sure. There's just so much to see, so many well designed products to appreciate, so many kawaii plushies and toys to "aww" at, so many fashionable shoppers to admire along the way. Plus, the abundance of large shopping centers didn't come at the expense of smaller, mom-and-pop shops, specialized artisan vendors, and secondhand stores. Probably half of my non-food purchases in Japan were thrifted, and I must say I found some gems. Altogether, shopping in Japan is a world unto itself.
Recommendations:
Eat and be merry as you shop around the ~150 year old Kuromon Ichiba Market in Osaka. Not enough shopping, you say? Head over to Osaka's main shopping district Shinsaibashi-suji and grab some food from an exceedingly brightly advertised restaurant in Dotonbori. Don't forget to take a picture with (or take a picture of all the people taking a picture with) the Glico man.
Shop big and tall at the towering shopping centers in Shibuya and/or in Ginza in Tokyo.
Visit Akihabara in Tokyo for gamer/anime-centric shopping.
Support local artisans at the Hakone Craft House.
Allocate ample time to explore the cute shops and delicious treats lining Arashiyama Village.
Don't snub Family Mart, 7-Eleven, and Lawson. They are the ultimate convenience and they deserve our gratitude.
Public amenities
The public amenities in Japan put those in the U.S. to shame. When I say "public amenities", I'm mainly thinking of three things: (1) public transit, (2) public restrooms, and (3) vending machines. You already heard my spiel on public transit between cities, but it's equally fantastic within cities. Trains and buses run on time, everything is spotless, and not once did we experience a disruption of the peace – a high contrast to NYC's subway system, where delays are prolific, litter or spilled drinks are a common blight, and panhandling and reports of harassment or violence are all too frequent. The grass looks much greener on the other side, though Japan's transit does have its own symptoms of a less green history, like the women-only cars that were instituted in 2005 as a result of reports of sexual harassment (a fact which would come to a shock to no woman anywhere).
Train stations were largely well equipped with the other 2 amenities: public restrooms and vending machines. Public restrooms in Japan were abundant, easy to find – not exclusively in train stations – they were clean(!!), and best of all, most toilets had bidet attachments that played white noise when you sat down. It endowed a sense of privacy I'd never experienced in a public restroom. Altogether, the public restrooms in Japan were a far cry from the pay-to-pee restrooms of Europe.
I wouldn't have expected vending machines to be worth commenting on, but I really came to cherish them. Maybe what did it for me was the variety of items you could get, including hot drinks (ok, when I say "hot drinks" I really just mean hot chocolate), and an array of snack and meal items, all of which come at reasonable prices. What's more, vending machines were everywhere. I'd come to expect them in all of the train stations, but I eventually learned there's no wrong spot to situate a vending machine. I took full advantage and made mini adventures out of trying vending machine drinks without translating the labels, basing my choice on the design. It was an invigorating time. Fun fact: There's about 1 vending machine for every 23 people in Japan!!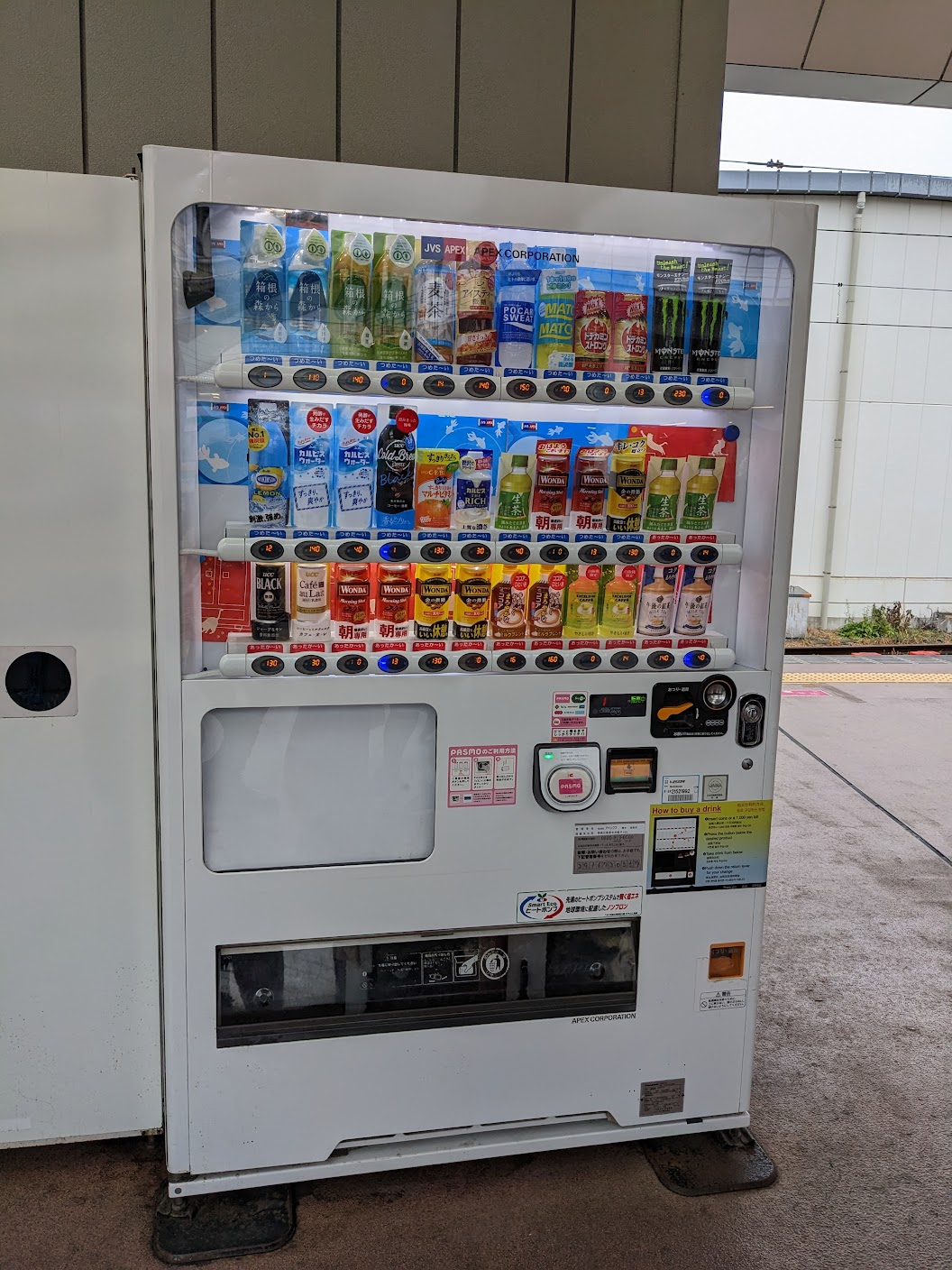 Culture of cuteness
I expected some baseline level of cuteness from the country that originated kawaii, but it out-cuted those expectations with a cuteness that pervaded everything. Even the anti-pedophile signs posted in train stations and on telephone poles had a cute, cartoonish design. And the subway ads blew New York's out of the water with their hand-drawn style; I could almost be convinced to buy whatever it is they're selling.
One of the most pervasive and joyful artifacts of the culture of cuteness was the gachapon machines that dominated the sidewalks, malls, and train stations, particularly in Osaka and Tokyo. For the uninitiated, like myself a mere 6 months ago, gachapons are magical little toy vending machines that dispense 1 item from a selection of 4-6 themed toys. The toys are often miniature versions of foods, household items, or anime and video game characters, among many possibilities, and generally aren't functional. They usually cost between 200 and 600 ¥ (about 1-4 USD) and they come in tiny plastic containers that are faithfully recycled in little baskets near the machines. We have similar toy dispensers in the US, but gachas were entirely quirkier, infinitely more common, and oh so thrilling to open. As someone who generally feels like a kid in an adult's body – and who doesn't? Except those who're kidding themselves – these machines absolutely fed into my childish excitement and love of surprises, however trivial. One of my favorites was a keychain that now decorates my kitchen cabinet handle: it's an itty bitty fruit danish with a teeny tiny pair of tongs and it's just precious.
Recommendations:
Get at least one gachapon after giving yourself ample time to appreciate and consider all the options.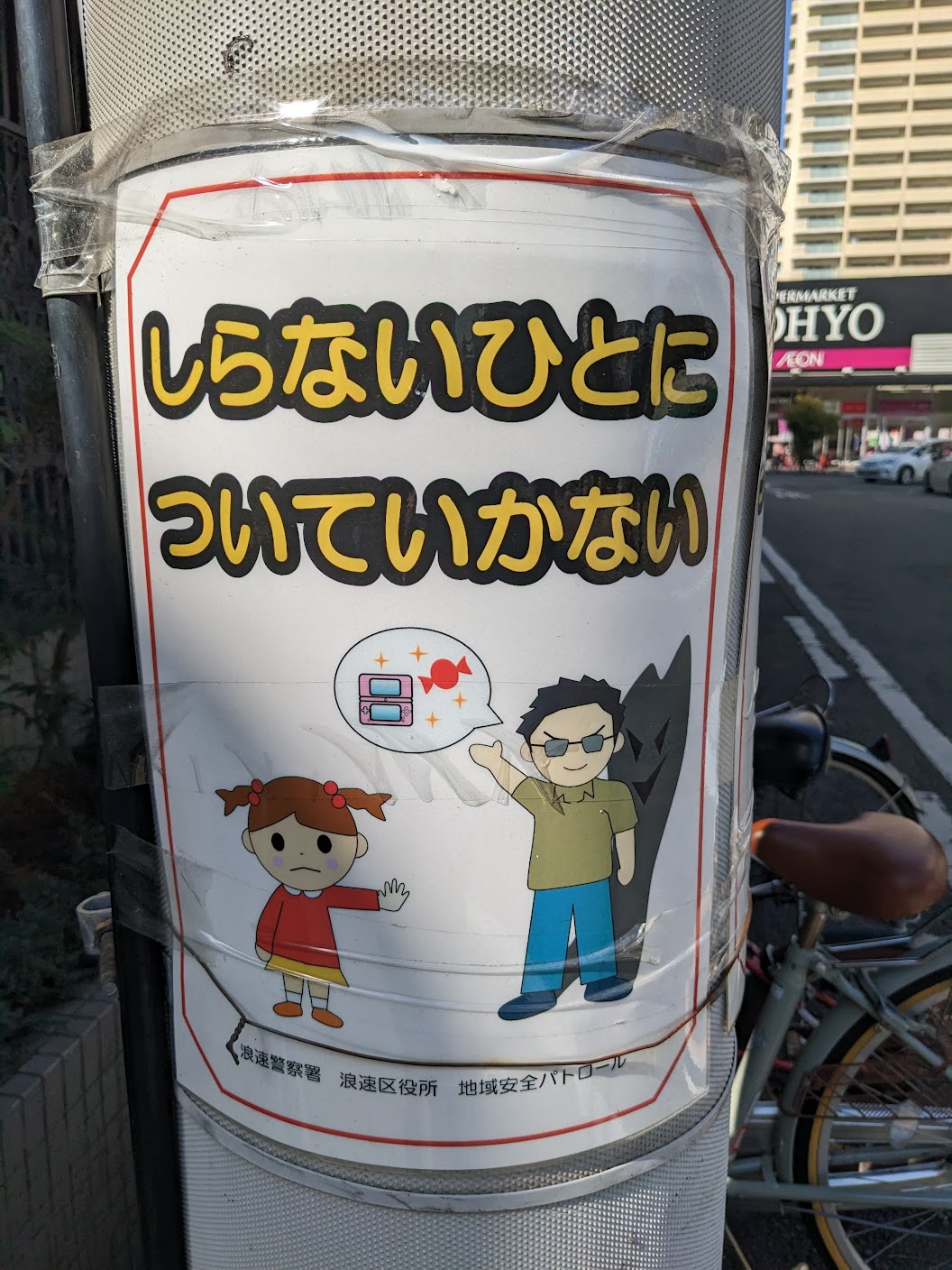 What else…
There's so much more I could say about my time in Japan, but at some point I need to wrap this up and you're probably ready to be done reading if you've made it this far. I want to share a few more observations and takeaways that didn't really fit with my categories above but were of note:
At chain restaurants, they tend to have English menus, even if the staff don't necessarily speak English.
Mask wearing is the norm.
Shiba inus are not very friendly dogs and the shiba cafe was not worthwhile.
Heated toilet seats are fantastic.
If you pay attention, you might find English gibberish on Japanese clothing.

Wrapping up
6 months after my time in Japan, I miss the stunning landscapes and the kindhearted strangers. I find myself jealous of my friends who have an autumnal trip to Japan around the corner; they'll get to see Hakone in the fall! Oh how I would love to teleport right now to an onsen amidst mountains and changing leaves. I miss Japan so, and I consider myself immensely fortunate to have had the time I did there, with such a wonderful travel crew.
My 2 weeks in Japan reminded me how slowly time moves when you find yourself constantly exposed to new places and new experiences. New York City offers me opportunities to experience novelty every day, and I almost feel like I can extend my life by feeding my curiosity, seeking change, noticing the details of daily life even when I'm home in this familiar city.
If you're venturing to Japan, I wish you a wonderful, delicious, adorable, heartwarming, awe-inspiring trip. While I hope you'll welcome my recommendations, I also hope you'll embrace a sense of adventure and spontaneity, letting whimsy take the reins. Walk around the city, go for a hike, hang out in a park, eat some delicious meals, get some retail therapy, ride the trains, play some crane games. Delight in the marvel of visiting such a beautiful and culturally rich place.