My [Remote] Noogler Journey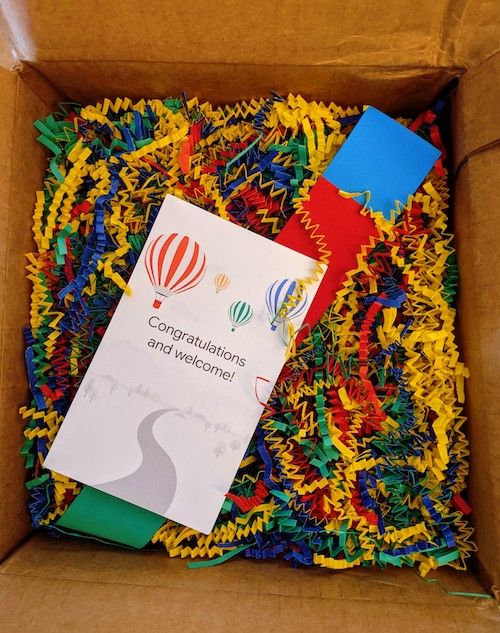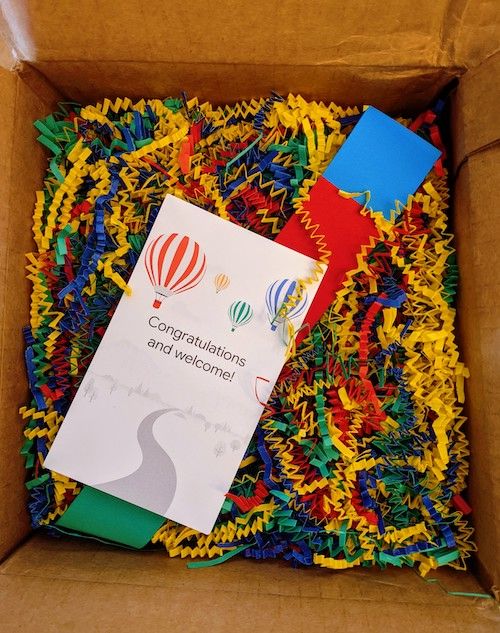 ---
6 weeks in to Google, I frequently find myself asking the big question: When will I get to go into the office? While it feels petty to be focused on this question when I should be grateful that I get to work at Google at all (and I am, trust me!), I am all too aware of what I am missing by not having a Google office to go into. Endless snacks and coffee on every floor, free café lunches, scootering around the office, infinite places to work from (including a real desk!), NYC views, not to mention the simple win of making eye contact with someone in person rather than the Google Meet-ified pseudo eye contact I've come to accept in its place. Small vent aside, I am excited to share the experience of my first several weeks of working at Google.
Noogler Onboarding
Though COVID has turned an engaging in-person onboarding experience into a checklist of training sessions and pre-recordings, I must admit that Google's COVID-friendly onboarding has exceeded expectations. Granted, I came in with expectations adjusted for the situation. Of course a big chunk of the culture would be missing, and the natural osmosis of knowledge that takes place in an office space would be harder to come by, and the relationships I would form by walking through the office and grabbing lunch with teammates would instead rely on our ability and willingness to connect over video. Still, it makes me glad that I have joined the company six months into the COVID crisis, and not a week in. Program and team managers have had time to iterate on a fully remote onboarding process, and have taken measures to make Nooglers feel like they are actually a part of the company and not outsiders eking out a place for themselves in this colossus.
The first week was anticlimactic, further lowering the bar. I had received my corporate laptop in the mail a few days prior to my start date, but thanks to resource constraints, I did not yet have my corporate credentials set up, which are required for 99% of the onboarding. This slowdown was not communicated to me until I reached out to ask about it a couple days in, thinking that surely someone would have reached out to me by now if that were the case (they didn't). It was also strange to me that my manager didn't send me a welcome email on my first day (nor my second day, nor my third day...) BUT it turned out that he had, and it went to the corporate email account that I still didn't have access to. Anyhow, I was properly set up early the following week, but Week One was essentially filling out HR documents and finding ways to occupy myself (I found, for instance, a 1,000 piece puzzle!) while I questioned whether they had made a mistake and actually I wasn't going to be working at Google after all. But here I am, six weeks in and with a google.com email address to show for it. Thank goodness.
(Okay, technically I'm seven weeks in, but the first week didn't count.)
General Onboarding and GTI
The first three weeks were a mix of general Google onboarding and an Engineering-specific onboarding program, called "GTI." The general onboarding was what one might expect: a checklist of videos and modules focused primarily on HR and benefits, security and privacy best practices, Google as a business, and Google as a culture. There wasn't anything spectacular about this part of the onboarding, but I give them credit for making it as smooth as possible by building a literal checklist to follow along with. It was sad to watch some of the prerecorded in-person trainings, thinking how different the experience would be in that room vs in my parents' kitchen. But, part of my COVID resilience practice has been to catch myself feeling sad about things like this and remind myself how fortunate I am that:
I have parents who will let me stay with them during a pandemic,
I have a job where I can work safely from home during a pandemic, and
they recorded these in-person sessions so I could experience the closest thing to the real deal.
So, all things considered, the general Noogler onboarding was pretty alright.
GTI, the Eng-specific component, pushed the onboarding experience from an A for Acceptable to an O for Outstanding. The program took up most of those first three weeks. It was a project-driven, team-based program intended to give technical Nooglers hands-on experience with some of the tools and processes that are most prevalent within Google – internal development tools, product and design documents, user experience testing, and accessibility measures, to name a few. Within a cohort of Nooglers with the same start date (my cohort was ~200 large), teams are generally 5-10 people large (mine was on the smaller side at 4) and arranged so that Nooglers in the same time zone are working together. My team was entirely made up of engineers, whereas other teams were a mix of UX Designers, PMs (Product Managers), and Data Scientists, among other roles within Engineering. Being on a team of all engineers was ideal because it lent itself to splitting all of the work evenly, giving us each a taste of everything, rather than giving certain tasks to the person whose role most closely applied (e.g. having PMs write the Product Requirements Document). Each team is assigned a GTI coach, a full-time employee whose role is to offer general guidance, answer ad-hoc questions, and endow Noogler team members with their best tips and tricks for development and other fun Google things. For my team, it was pivotal to have someone who could point us to the tools we needed and who would be available when we found ourselves blocked or plainly confused. In lieu of in-person socializing, it was recommended that we schedule a team "social time" via video conference twice a week. It was sort of awkward at first; I can recall multiple instances of five+ second silences where it was clear we had exhausted our ability to talk about a topic and had no natural segue into another. Even though it felt forced at times, in the end it gave us a chance to bond (and at times commiserate) over our experience onboarding remotely and to develop relationships, albeit temporary, with fellow Nooglers. This social time, as well as interactions with our coach and other teams, further reinforced the notion that all Googlers have that certain "Googliness," despite drastically different backgrounds. I was virtually surrounded by smart, hard-working, curious, friendly people who were collectively struggling to become acquainted with the vastness of Google's internals. Even the guy who had worked at Google before was asking questions!
Scattered throughout GTI were live presentations from subject matter experts across the different areas we were introduced to – accessibility, product, security, developer workflows, user experience, infrastructure, testing, etc. These were typically one to two hour sessions, with a large chunk of that time dedicated to Q+A. Outside of these sessions, I divided my time between meeting with my team for twice-a-day stand-ups, project work – whether that meant coding or contributing to required documents – and studying by reading through internal documentation and completing Codelabs, exercise-based tutorials that introduce engineers to various technologies within Google. By the end of the three weeks, I had some idea of what the core technologies at Google were, what processes I should be aware of, and where I should go if I needed help. Each team wrapped up the three weeks with a brief presentation of their project; in our case, we demoed our chatbot that collected users' ratings of different foods and made recommendations based on average rating. I think the idea was born of our longing for lunch at a real Google café (😭). That behind us, my teammates and I bid one another a very fond farewell, and threw our GTI graduation caps into the air for our Legally Blonde moment.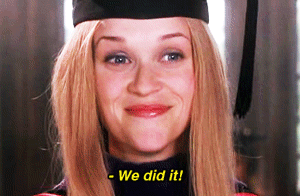 Onboarding is still ongoing and will be for several months. In fact, there are people who have been here for six+ months who still consider themselves Nooglers – understandably, especially with the overall slowdown of onboarding thanks to the 'rona. So, I will proudly wear my Noogler hat* for as long as it's socially and professionally acceptable. That said, I have only discussed a small piece of my first six weeks up til this point. On to the rest!
The Team
After my first three weeks of GTI and general Noogler onboarding, I finally got to start onboarding onto my team! And what a team it is! I went from being on a team of five people at my last company to a team of eighteen at Google, or forty one if you consider all of Ads Developer Relations (which, in addition to Developer Advocates, includes Technical Writers and Developer Programs Engineers). On that note, allow me to announce my new title... *drumroll please* ... Developer Relations Engineer 🎉. DPEs and DAs have had their career ladders merged, so now I have a title that makes me sound more like an engineer and less like a marketer! Hoozah!
At this point, I have personally spoken with ninety percent of the team, and I am continually amazed at how wonderful everyone is. Part of me worried that by leaving my old job, I was risking leaving a great, tight-knit group of people for a big question mark of a team. I had met a couple team members, but it is hard to gauge the culture of a team without having met them in person or having interacted with a significant portion of them; even then, it may be different from the experience of actually working alongside them (and what does "working alongside" someone even mean when everyone is remote?). The decision to take that risk didn't mean that I was setting a low bar for the team, but rather that I felt comfortable taking the risk because I felt confident that a high bar would be met. Even then, the team has exceeded expectations! Because the role isn't particularly well known or common, people have come into it from all different backgrounds, and they have largely joined Developer Relations out of a desire to help people. That much has been consistently displayed in my last three weeks working with the team; people who I have hardly spoken to and who are presumably very busy with work at the moment have reached out to me to set up time for us to get to know one another, or to offer help should I have any random questions for them. People are going out of their way to make me feel welcome here, to assure me that I belong here, and to preemptively offer their hand in case I feel myself starting to slip. There is a pervasive empathy, on the team and beyond, for the challenges people are facing in and out of work right now, and team members have acknowledged that the onboarding experience is equally affected. Especially as someone who experiences FOMO far more easily than I care to admit, I feel deeply grateful to be on a team that expresses a genuine interest in my being here, even though "here" is in a square on their laptop screen.
Only three weeks in, I have already bonded with team members over Dragon Ball Z references, a passion for great deals, an adoration of Baby Yoda, a love of winning, an interest in Etsy, a desire to see more diversity in tech (and specifically, on my new team), a love of food, and so many other things. And guess what: my team has a Fun Committee and I joined it, so I will be well-positioned to create opportunities for myself and others to continue to connect meaningfully from a distance. The leader of the Fun Committee? Spongebob. These people like Spongebob. These are my people. Oh, and before I stop talking about my team, one more thing: In our team meeting the Friday before Halloween, my manager came dressed up as Batman, mask and all. Just, wow.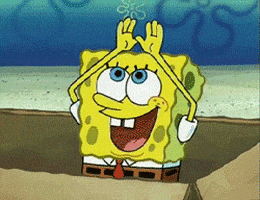 Resources on Resources on Resources
There are so many resources I don't know what to do with them. I have been organizing my bookmarks in a way that I hope will be intuitive for my future self, but am already finding myself lost in the immensity of the reference materials and helpful tools at my disposal, and for all I know at this point they will all be relevant. At my last company, I faced the opposite problem – no documentation, broken tooling, and many problems that had never been encountered before. This got better over the course of my few years there, but doesn't compare to the resources available within this massive twenty two year old company. The worst of it (so far) is that there is too much to look through, or a given piece of documentation might be stale – I can work with that!
The internal technical tools are one thing, but there is so much more. I won't go into detail on the technical tooling, but I will at least mention some of my favorite non-technical Google resources I've come across. First is the WFH budget – every Googler is allowed to expense a thousand dollars worth of equipment for working from home during COVID. It has to be something on an approved list of WFH expenses, so I wouldn't be able to spend it on something like exercise equipment or a coffee machine, but I would be able to spend it on a good office chair; in fact, I have! It is in Google's best interest as a business to make sure their employees are equipped to work productively from home, but you could say the same about other companies that do not provide the same luxury. Second is a host of virtual conferences and events that are globally available. So far, I've attended the Women@Google Summit, various NYC Tech Days sessions, participated in a "virtual 5k", tracked my steps for a Google-wide Walktober competition (I placed 317th out of 19,304!), and signed up for virtual art and baking classes – and this is being choosy with my event participation.
Google versus Startup
With the increase in resources comes the tradeoff of more processes and bureaucracy and slowness, which to some is not a fair trade. While I have found it mostly refreshing to have all this time dedicated to my ramping up, some would be frustrated at the inability to simply dive in and immediately push code to production. So far I have not experienced this frustration, though I have found myself bored at times, less as a result of having nothing to do than as a result of having so much to do and feeling like I don't have a cohesive way to do it. I have also seen how some of the processes feel like they could deter the pursuit of internal passion projects. Many projects, even entirely internal ones, would require review by privacy and security teams before they could be used; at a startup, these precautions and processes probably don't exist, and so you are more free to run with any given idea. Again, there are tradeoffs; because there are so many processes and precautions in place, I don't need to worry so much about mistakenly bringing down a production service or accidentally collecting data without proper consent, whereas at a startup, it is infinitely easier to make a fatal mistake.
There are a lot of other comparisons I could draw, but I'll save those for a deeper dive down the line, once I have a more informed view of working at Google. The only other thing I will note for now is the presence of HR. At my last company, we didn't have HR until about a year and a half after I started, and when we did have HR, it was one person. She was wonderful, and her being there made a huge positive difference to the company, but I am seeing now how having an established HR body can make things so much easier. At the same time as it adds requirements that others might find tedious (diversity and inclusion trainings, for instance), a solid HR department provides tools for me to succeed at Google, and helps me to understand what my options are in terms of benefits and career development. More than I expected, I feel personally and professionally supported at Google just by knowing that there exist such well-established people resources.
Looking Ahead
"Don't get emotionally attached to anything here, because as soon as you do they're going to deprecate it and replace it with something else," a teammate warned me recently. There have been a lot of pleasant surprises in the last six weeks, and I count among them the at once alarming and exciting fact of constant change I've heard of here. I consider it a loss if I find myself in a job where I am completely comfortable, so my teammate's warning acts as more of a reassurance that my move to Google need not come at the cost of a likelihood to find myself in situations that compel me to learn and grow. While I have at times been flabbergasted by the breadth of information available to me – within Google at large, but also within my team alone – all the other perks of working here would be in vain without it.
In my last post I speculated that onboarding entirely remotely might allow me to better isolate my enjoyment of the work from my enjoyment of all things that come with working at Google. I cannot speak to the work much yet, given that I am only three weeks in to onboarding onto my team and still in an exclusively absorbent phase. On the "all things Google" side, there is a lot to be said for a team and a company that has found ways to make me feel supported and connected while onboarding remotely through a pandemic. Entirely remote onboarding so far has proven that the possibilities for the next several months out of office should be exciting and joyful at their best, and bearable at their worst. Thinking about the work as I understand it now, I am filled with nerves and wonder, and a desire to build an understanding that will allow me to enjoy the work as much as I have enjoyed everything else. With Spongebob and Batman on my team, I think it will all be just fine.
---
*Actually, I got a Noogler headband